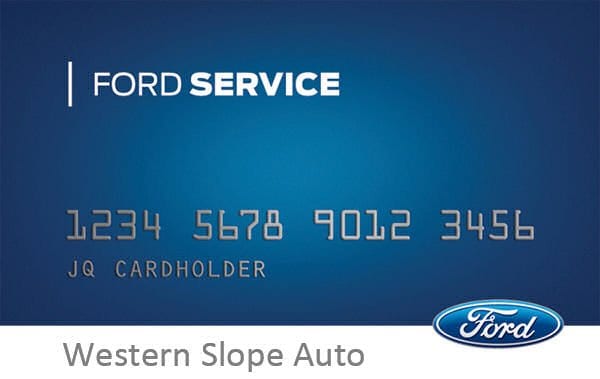 Now you can get the credit you need and deserve at Western Slope Auto! We now offer a credit card that can be used for:
Service
Parts
Tires
Accessories
Extended Service Plans
Rentals, and
Body Shop Repairs and deductibles
You can now enjoy the convenience of monthly payments on repairs, maintenance, accessories, window tint, etc. You can even purchase an extended service plan. Individuals and businesses can take advantage of the convenience it allows.
If you are the type that hates paying interest, no worry. The plans also include extended no interest payment options.
The application process is simple and can be accomplished on-the-spot at the dealership with immediate approval. Once you have your card, you can request additional cards for family members. There are also exciting rebate offers for new and existing members on a frequent basis.
Your away-at-school college student can even use it at their local Ford dealer for maintenance and repairs.
Please call your favorite service advisor for more information at 970-243-0483, or stop by the service department and get your card! You can also fill out the application in advance HERE and bring it in.