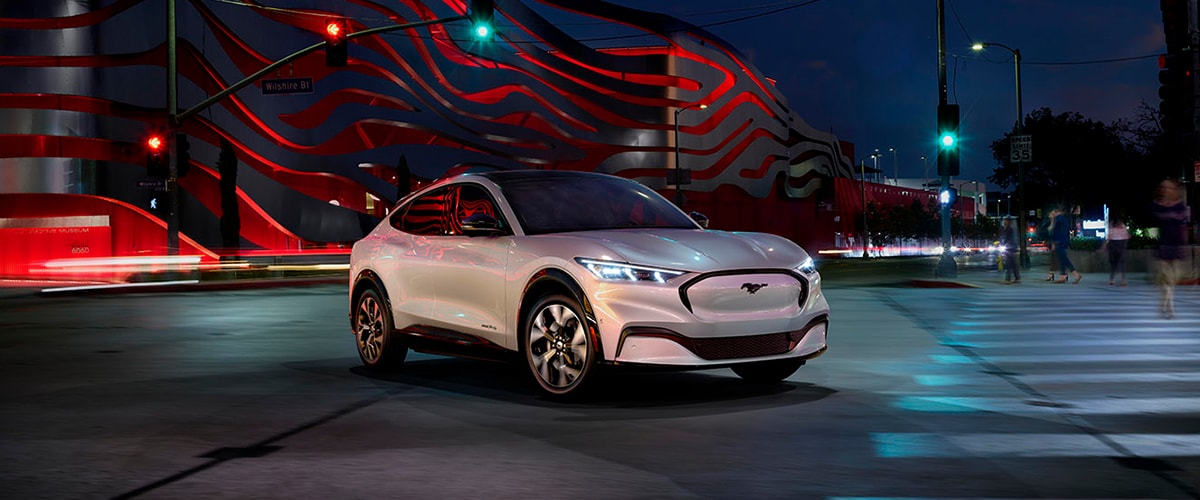 The 2021 Ford
Mustang Mach-E
An Electric New Addition To The Mustang Family
An American performance icon is adding a new stablemate to the family while using an entirely new powerplant with the environment in mind. Your local Ford car dealership in Grand Junction CO is excited to announce the addition of the 2021 Ford Mustang Mach-E: the all-new, all-electric SUV model. Coming in late 2020, the inaugural Mustang Mach-E delivers the same all-American power, style, and freedom that embodies the spirit of the best-selling sports coupe in the world. The rear-wheel-drive 2021 Mustang Mach-E GT Performance Edition bolts 0 to 60 in the mid-3-second range with an estimated 459 horsepower and 612 lb.ft. of torque. The 2021 Mustang Mach-E GT joins the 2021 Ford Mustang Mach-E Select, the 2021 Ford Mustang Mach-E Premium, the 2021 Ford Mustang Mach-E California Rt. 1, and the limited edition 2021 Ford Mustang Mach-E First Edition in the stable. Enjoy the power with the endurance of at least an EPA-estimated 300-mile range that this outstanding vehicle can deliver. Visit Western Slope Ford to learn more about how you can get an exciting ride in the next-generation 2021 Ford Mustang Mach-E.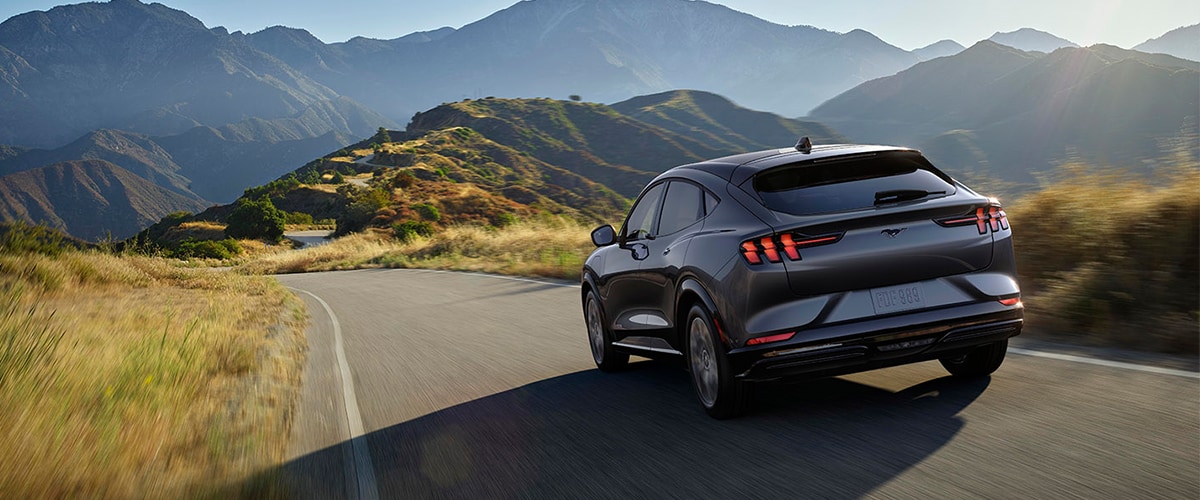 Intuitive Technology
The innovative electric technology gives the 2021 Mustang Mach-E the edge with its friendly footprint in the environment. This SUV model features a standard-range 75.7 kWh battery that produces 255 horsepower. The extended-range battery has a 98.8 kWh capacity, pumps out 282 horsepower. The rear-wheel-drive layout posts an estimated 300 miles. The all-electric features potentially generate exceptional financial savings. After government tax rebates, lack of fuel expenses, and lower maintenance costs, Ford forecasts the five-year savings will exceed $13,000*. With all the environmentally-friendly features, the 2021 Ford Mustang Mach-E delivers a bold design similar to the sharp of the current Ford Mustang. The front grille is fused with the classic Mustang emblem, and the same Mustang sequential tri-bar taillights are displayed on the rear of the 2021 Ford Mustang Mach-E. Your Grand Junction Colorado Ford dealer invites for a visit to get the latest information about the upcoming release.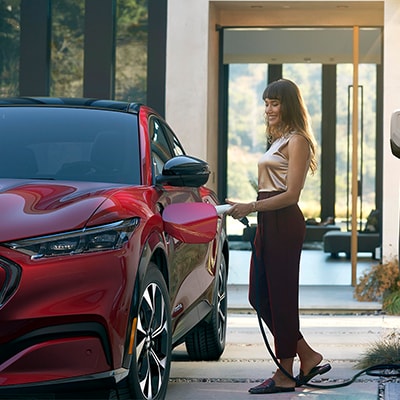 Driver Profile and Personalization
Mustang Mach-E recognizes you as soon as you get close using your Phone As A Key. Then it automatically adjusts the seats, mirrors, radio, lighting and instrument panel just the way you like it.
Drive Experiences
Your Mustang Mach-E will match your mood. You can select your Drive Experience to fit the moment-and the interior sound, lighting, and even the responsiveness will adjust to your style - whether it's Unbridled, Engage or, when necessary, Whisper.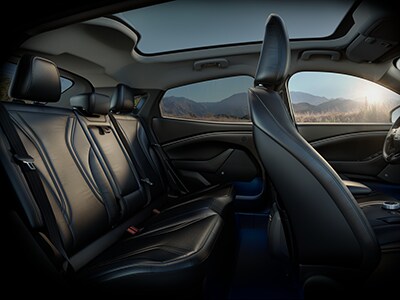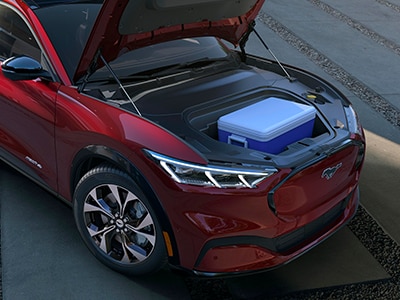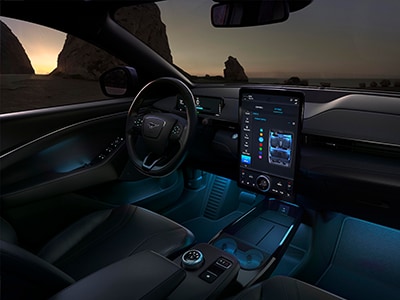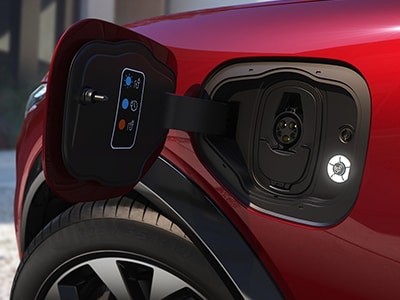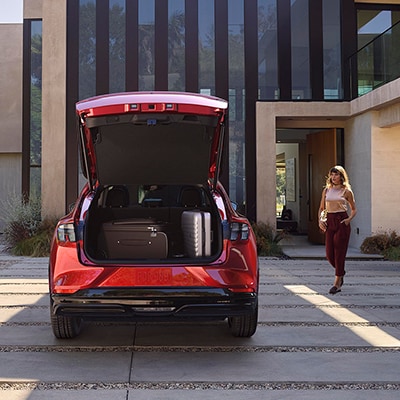 The Luxury of Space
Exhilaration is better when it's shared. An impressively spacious interior with plenty of legroom means everyone will love the ride.
Front-Load Freedom
A convenient front trunk levels up your adventure game. Not only is this added 4.8 cu. ft. of storage space water-resistant, it's washable and features a convenient drain, making it perfect for tailgating, camping and muddy gear-toting.
Enjoy a comfortable ride with a 2021 Ford Mustang Mach-E interior that features spacious seating for five and ample legroom. The introductory trim levels feature the standard ActiveX™ Seating Material. The superior Perforated ActiveX™ Seating Material comes with upgraded trims. The 2021 Ford Mustang Mach-E brings an expanded cargo space with the new 4.8 cu.ft., storage under the hood. Your tailgate or camping gear won't get wet in this water-resistant storage space. The interior also features an abundance of technology with the 10.2-inch digital cluster and a 15.5-inch, vertically mounted center touchscreen. Keep your smartphones at full power with the wireless phone charging hub. The 2021 Ford Mustand Mach-E gives you access to New Generation SYNC® with Connected Navigation and FordPass Connect™, which can help you find one of the more than 20,000 charging stations available around the United States. The Ford Co-Pilot360® 2.0 driver assists come on all trims levels. Join Ford's next-generation with this environmentally-friendly SUV from the iconic Ford Mustang stable. Are you ready to make an order? Our sales team at Western Slope Ford would love to help you, so come in for a visit and learn more about how you can reserve your all-new 2021 Ford Mustang Mach-E. 
Exhilarating Performance
With the first all-electric member of the Mustang family, Ford harnessed the power of electrification to craft a vehicle that's as exciting to drive as its predecessors while also delivering a new, uniquely tailored experience. There will also be a  Mach-E GT - targeting 0 to 60 mph in less than 4 seconds*, making it faster off the line than a Porsche Macan Turbo3 - and a GT Performance Edition, targeting 60 miles per hour in the mid-3-second range - comparable to a Porsche 911 GTS - as well as an estimated 342 Kw (459 horsepower) and 830 Nm (612 ft.-lbs.) of torque.
Full Capability
Available electric all-wheel drive delivers exceptional handling and capability. Front and rear motors distribute power to individual wheels, so it can help you take on snowy roads.
Driving Ease with Next Generation SYNC
The new intelligent, voice-activated, next generation SYNC® provides a driving experience that's designed around you. As intuitive as your smart phone, its user-friendly design makes it easy to personalize and update your drive right from your mobile device or on your computer.  Other highlights include cloud-connected navigation, a customizable cluster screen and premium 15.5-inch touchscreen and modem-based over-the-air updates. It can even help you locate your next charge.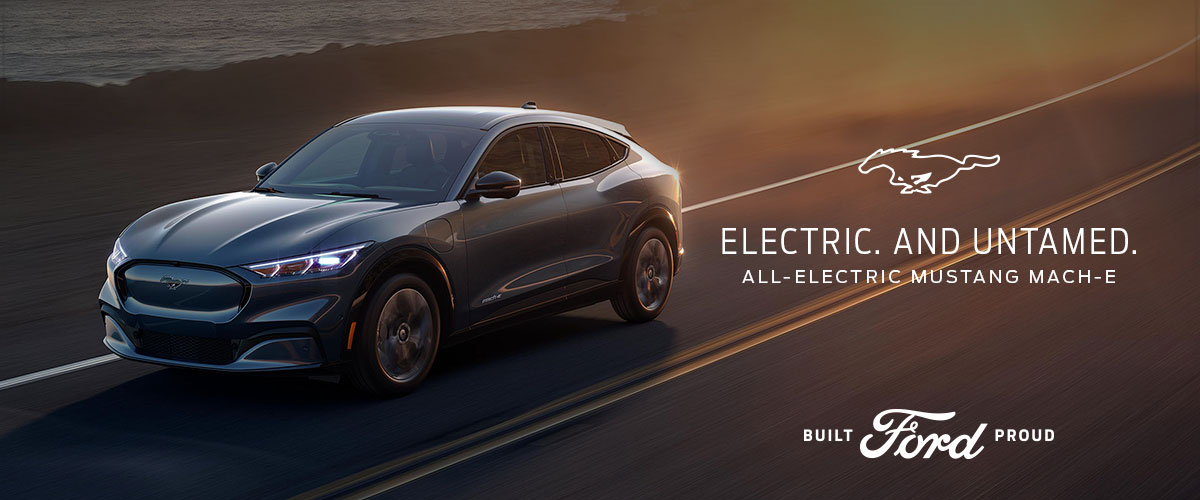 Eager to Learn More?
Stop by our dealership to learn more or fill out the form below to start reserving your 2021 Ford Mustang Mach-E today!
Make an Inquiry