Thank You Medical Professionals!
Medical Professionals $500 Bonus Cash
Every day in our community, a group of heroes dedicates their lives to helping others recover from an illness or an injury. The entire Western Slope family wants to say "Thank you" to all of our amazing medical personnel by offering them $500 in Bonus Cash from our Ford Medical Professionals Appreciation Program*. New Ford models are eligible for purchase or lease through this exclusive CO Ford healthcare appreciation incentive. We are forever grateful to the many medical workers who provide care for so many. These heroes display special skills, courage, and compassion to help those facing medical challenges. Visit Western Slope Ford today, and our friendly sales professionals will help you find the perfect match for your personality.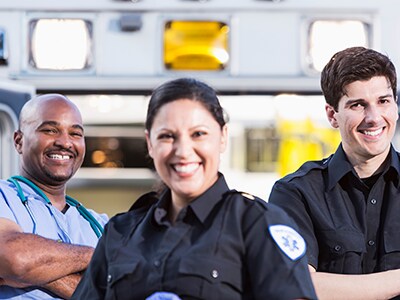 Who is eligible?
The Medical Professionals affinity group is made up of approximately 8.2 million people who work in the national healthcare network. Similar to healthcare groups identified by competitive automakers, Fords new Medical Professionals group consist of all healthcare roles as defined by the US Bureau of Labor Statistics.
The Western Slope Ford Difference
In addition to these roles, we realize that there are other positions throughout the national healthcare network that are on the frontlines, most notably hospital general staff, administrators, clerical positions and receptionist - we have included these in our Medical Professionals universe. The specific roles are outlined below:
Nursing Assistant
Licensed Practical Nurse
Nurse Practitione
ER Nurse
Home Health Nurse
Medical Assistant
Doctors
Cardiologist
Oncologist
Pediatrician
Surgeon
Therapist
Pharmacy Technician
Home Health Nurse
Clinical Laboratory Technician
Radiologist
Physical Therapist
Home Health Nurse
Clinical Laboratory Technician
Radiologic Technologist
Health Information Technician
Clinical Laboratory Technologist
Occupational Therapy Aide
Respiratory Therapist
Family Practitioner
Phlebotomist
Physician Assistant
Nursing Assistant & Orderlies
Cardiovascular Technologist
Medical Equipment Preparer
Nurse Anesthetist
Anesthesiologist
Athletic Trainers
Chiropractors
Dental Hygienists & Assistants
Dentists
Massage Therapists
Veterinary Doctors
Veterinary Assistants and Technicians
Hospital General Staff
Hospital Receptionist
Healthcare Administrators
Healthcare Administrative and Clerical positions
Details
To register in this CO Ford healthcare appreciation benefit, click on the button below and complete the enrollment form at ID.me. Begin your search by browsing extensive inventory for the Ford model that will take you on your next family road trip. The versatile Ford Explorer offers fantastic performance when navigating ever-changing weather conditions and incredible space for the entire family and your cargo. The iconic Ford Mustang glistens as it sweeps through the Rocky Mountain curves with its world-class handling. The rugged Ford F-150 delivers class-leading abilities that can haul your boat and fishing gear for a day on the water. Your compassionate heart and dedication to others inspire so many because you want to help when a challenge arises. You are heroes that make our community a better place. On behalf of the entire staff at Western Slope Ford, thank you to all the healthcare professionals for your commitment to serve those who need help. Our sales professionals are eager to help you pick a new Ford model with this $500 Bonus Cash Offer through our CO Ford healthcare appreciation program!

*See dealer for complete details
Make an Inquiry
* Indicates a required field
Hours
Monday

8:30am-5:30pm

Tuesday

8:30am-5:30pm

Wednesday

8:30am-5:30pm

Thursday

8:30am-5:30pm

Friday

8:30am-5:30pm

Saturday

8:30am-5pm

Sunday

Closed